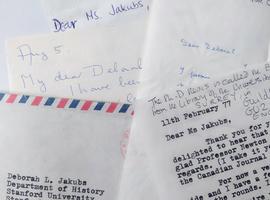 AR UDESA-CEYA 2022-1
Collection
1975 - 2004
La Colección contiene las cartas intercambiadas por Deborah Jakubs en el marco de la investigación para su tesis A community of interests : a social history of the British in Buenos Aires, 1860-1914, con la cual se graduó como Ph.D. en Historia Latinoamericana en la Universidad de Stanford en 1986.
Reúne correspondencia con miembros de la Comunidad Británica en Argentina que le aportaron sus historias familiares. Además, hay intercambios de información genealógica y de la inmigración con otros colegas.
Jakubs, Deborah